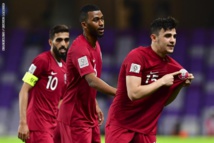 Support for Alberto Zaccheroni's side has been patchy throughout the tournament but a quarter-final win over holders Australia has left them one game away from repeating their run to the final as hosts in 1996.
The English-language paper the National quoted the Abu Dhabi Sports Council Twitter feed as saying it had bought the remaining tickets for the match in the city's Mohammed Bin Zayed Stadium and would distribute them ahead of the game.
"The Whites (UAE) have proven to be superstars by demonstrating determination, will and courage to uphold the homeland banner and this is an ultimate goal," Council chairman Nahyan Bin Zayed was quoted as saying. "We wish them success in their upcoming journey."
However, the National reported that only "Emirati men on presentation of their Emirates ID" were being issued tickets while "women and expats reported being turned away."
The paper said "it was not immediately clear why they were prevented from claiming tickets."