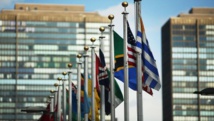 That means a total of 104 million children between the ages of 5 and 17 and living in countries hit by war or natural disasters are not getting an education, according to the report released by UNICEF on Wednesday.
The 10 worst-affected countries are all in Africa, and the situation is the worst in Niger, the Central African Republic, South Sudan and Eritrea, the report says.
Children living in countries hit by conflict or disaster are victims in both the short and long term, said Henrietta Fore, UNICEF's executive director.
"In the near term, their schools are damaged, destroyed, occupied by military forces or even deliberately attacked," Fore said, adding that many children do not return to education.
"In the long term they – and the countries they live in – will continue to face perpetuating cycles of poverty."
The report calls for more investment in education ahead of the UN General Assembly next week, which will see world leaders and high-ranking officials descend on the UN for meetings.
Less than 4 per cent of global humanitarian funding appeals are dedicated to education, UNICEF says.
Notepad
Internet links