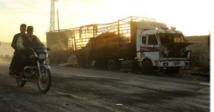 "We are getting nowhere at the moment," Egelands told reporters, blaming the government and rebels, as well as countries that have influence on the warring sides.
"They are not effectively getting results on either of the two sides," Egeland said, citing countries such as Russia and Iran, which back the Syrian army, and Turkey, which has links with opposition rebels.
Egeland also called for a temporary truce in Idlib, a northern province facing heavy fighting between opposition forces and the government.
"The situation is screaming for a ceasefire," he said about Idlib, where 1.2 million out of 2.4 million civilians are internally displaced people.
"We cannot have conventional warfare in what is essentially a refugee camp," Egeland said.
The UN envoy criticized that the warring sides and their foreign sponsors are blaming each other for the lack of humanitarian access, rather than seeking solutions.
"I am so fed up with these counterarguments that these men in office, these men in suits and uniforms have" for not allowing aid convoys to besieged areas, he said.
While hundreds of thousands of trapped civilians have been without aid for two months, however, humanitarian organizations have been able to help millions of Syrians who live in other areas of the country, Egeland clarified.