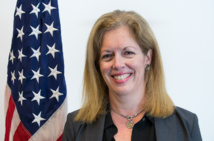 Stephanie Williams
New York

(dpa)

-
The United Nations' acting Libya envoy on Tuesday warned that the influx of weaponry, equipment and mercenaries to the country's warring sides would intensify the conflict.
"We continue to witness an alarming military build-up as a result of the uninterrupted dispatch by the foreign backers of increasingly sophisticated and lethal weapons, not to mention the recruitment of more mercenaries to both sides of the conflict," Stephanie Williams told the UN Security Council.
She added that "the only conclusion that we can draw is that this war will intensify, broaden and deepen with devastating consequences for the Libyan people."
Libya has been in turmoil since the 2011 overthrow of dictator Moamer Gaddafi and has become a battleground for rival proxy forces.
The oil-rich country has two competing administrations: the UN-recognized Government of National Accord (GNA) in Tripoli and the government allied to military strongman Khalifa Haftar, based in the eastern city of Tobruk.
Turkey supports the GNA, while Haftar's forces are supported by Russia, the United Arab Emirates and Egypt.
Up to 1,200 mercenaries from a Russian paramilitary security firm have been fighting in Libya, according to a recent internal UN report.
The North African country has been under a UN arms embargo since 2011.
Williams said there had been no lull in fighting despite UN Secretary General Antonio Guterres' March appeal for a global ceasefire so the world could respond to the coronavirus pandemic.
"Instead, fighting has escalated with an unprecedented increase in indirect fire in urban areas and a growing tide of suffering for civilians," she said.