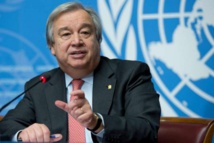 "In the first five months of this year, international tourist arrivals decreased by more than half and some 320 billion dollars in exports from tourism were lost," he said in a statement. "Overall, some 120 million direct jobs in tourism are at risk."
With societies in lockdown, flights grounded and borders closed in many parts of the world, Guterres said developing countries had been particularly hard hit, including in Africa.
"The fall in revenues has led to increased poaching and habitat destruction in and around protected areas, and the closure of many World Heritage Sites has deprived communities of vital livelihoods," the UN head added.
It has also had a negative effect on women, rural communities and indigenous peoples, he said, noting the importance of rebuilding the tourism sector as it employs one in every 10 people worldwide.
Guterres named five key areas, including mitigating the socio-economic impacts of the pandemic and supporting green growth, as ways to promote recovery of the sector.