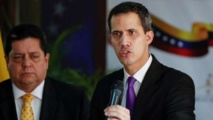 "Despite Venezuela having officially closed its land borders with neighbouring Colombia and Brazil as of February 23, thousands of people are still leaving the country daily," said Andrej Mahecic, a spokesman for the UN refugee agency UNHCR.
They come to Colombia to work, study, receive medical attention, obtain food or medicine unavailable in Venezuela, or to emigrate to Colombia or other countries, Mahecic said at a press briefing in Geneva.
"Many are risking their lives in the process, either wading across torrential rivers or risking exploitation and abuse by armed groups controlling treacherous irregular paths," the spokesman warned.
On Tuesday, a large number of Venezuelans stormed the Simon Bolivar border bridge to enter Cucuta. The Colombian authorities said they numbered hundreds, but Mahecic put their number at 46,000.
The Venezuelans broke through border controls after the water level rose in the river Tachira, preventing them from crossing it into Colombia.
Although no casualties were reported, "[the] situation illustrates the dangers of irregular cross-border movements by people who are desperate," Mahecic said.
German representatives of the Catholic charitable organization Caritas said more than 30,000 Venezuelans had crossed daily into Cucuta until the border was closed.
"This vital lifeline has been severed since humanitarian aid became a plaything for political interests," said Friedrich Kircher from the aid arm of Caritas in Germany.
The use of illegal border crossings controlled by armed groups carries "uncontrollable risks," he cautioned, calling for the border to be reopened.
More than 3 million Venezuelans have emigrated, mostly since 2015, to flee the country's economic and political crisis, and the number is increasing.
An estimated 1.1 million children - including children uprooted from Venezuela, returnees and minors living in host and transit communities – will need protection and access to basic services across Latin America and the Caribbean in 2019, the UN children's fund UNICEF said on Friday.
That is a projected increase from the nearly 500,000 children in need today, according to the statement.
Ecuador was meanwhile preparing to host a meeting of about 200 representatives from 14 countries on Venezuelan migration in the Americas on Monday and Tuesday.
Quito has also invited observers from 22 countries and international organizations, the Foreign Ministry said.
The aim is to coordinate policies and to deal with technical questions such as Venezuelan citizens' travel documents, according to the statement.
Venezuela's crisis deepened when opposition leader Juan Guaido declared himself interim president in January and launched an attempt to bring humanitarian aid to hundreds of thousands of people facing food and medicine shortages.
Guaido is backed by more than 50 countries in his power struggle with Maduro, who won a second term in a contested election in 2018 and who has presided over an economic meltdown.