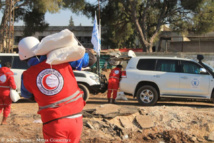 "The trucks are on their way to Wafedeen crossing north-east of Douma," a city located a few kilometres outside Damascus, said Linda Tom, a spokeswoman for the Office for the Coordination of Humanitarian Affairs (OCHA) in Syria.
"We will announce when we enter the region," she told dpa.
The aid convoy will comprise 46 truckloads of health and nutrition supplies, along with food for 27,500 people in need.
"The UN and partners have received approval to deliver assistance for 70,000 people in need in the besieged enclave. The UN has received assurances that the remaining supplies for all approved people in need will be delivered on 8 March 2018," a separate OCHA statement said.
More than 667 civilians have been killed in Eastern Ghouta since February 18, when government forces began a large-scale campaign aimed at expelling the rebels, according to estimates from the Britain-based Syrian Obervatory for Human Rights.
The only UN delivery of assistance to Eastern Ghouta this year was on February 14, when a convoy carrying assistance for 7,200 people reached Nashabiyah.
Syrian government forces have besieged Eastern Ghouta for more than four years.
The region's residents have largely been cut off from humanitarian aid, and activists have warned that the situation is dire, with food and medical supplies quickly running out.