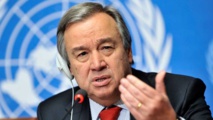 "Last New Year, I issued a red alert, and the dangers I mentioned still persist," Guterres said in a New Year's message. "These are anxious times for many, and our world is undergoing a stress test."
Climate change is "running faster than we are," he said, adding that deepening geopolitical divisions and a record flow of migrants fleeing to safety were also adding to the pressure on populations and governments.
Growing inequality and intolerance and a decline in trust continue to challenge the world, he said.
The UN chief said he nevertheless saw cause for hope in the ceasefire talks in Yemen and agreements between Ethiopia and Eritrea and in South Sudan.
"As we begin this New Year, let's resolve to confront threats, defend human dignity and build a better future, together," Guterres said.