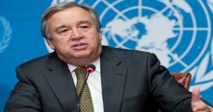 Guterres welcomes the reopening of Aden port but said this alone will not meet the needs of 28 million Yemenis, Stephane Dujarric said.
Humanitarian supplies are most needed in the areas near ports in Hodeida and Salif, and shipments coming through Aden will have to cross combat lines to reach their destination, Dujarric said.
Guterres said he was ready to send a technical team to Riyadh to discuss the UN's inspection mechanism for aid shipments, as requested by the Saudi government. The UN would then dispatch senior humanitarian officials to discuss arrangements at Hodeida port and Sana'a airports.
Notepad