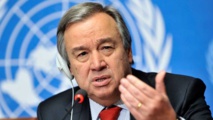 The so-called SDGs are a broad set of targets agreed in 2015 to tackle global issues. The 17 categories include poverty, hunger, gender equality, climate change, sustainable production and economic growth.
"We have the vision, the frameworks and the plans. What we need is accelerated actions, not more deliberations," Guterres said in a letter made public on Wednesday.
World leaders must "act collectively and with urgency" to manage global risks and pave the way to achieving the goals that countries agreed on four years ago, he added.
No country is expected to fulfil all of the goals by 2030, according to a recent study from the German Bertelsmann Stiftung foundation.
The study also pointed to G20 nations as poor role models, saying that wealthy industrialized nations are responsible for large gaps and neglecting the SDGs.
"The G20 must play a central role. A role that can drive real change. Your decisions impact the lives of almost eight billion people around the world. I urge you to lead the way in ensuring that no one is left behind," Guterres wrote.
Leaders from the 20 nations - that represent 80 per cent of the world's GDP - will meet in Osaka. Japan is chairing the two-day meeting for the first time.
The United States, China, Russia, Turkey, Britain, France and Germany are among the countries in the group.