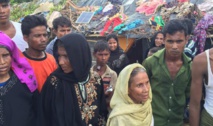 Jeffrey Feltman will reiterate UN Secretary General Antonio Guterres' repeated calls for Myanmar's government to stop military "clearance operations" and violence, which have seen more than half a million Rohingya Muslims flee to neighbouring Bangladesh.
Feltman will also push for unfettered humanitarian access to northern Rakhine state and for the government to allow the safe, voluntary and sustainable return of refugees, UN spokesman Farhan Haq said.
Myanmar security forces have carried out "well-organized, coordinated and systematic" attacks against the Rohingya, including the destruction of villages, killings and rapes, according to a report from the UN's Human Rights Office based on interviews with dozens of people on the ground, including refugees and police in Bangladesh.
UN human rights chief Zeid Ra'ad Al Hussein has termed the crisis "a textbook example of ethnic cleansing."
More than 500,000 Rohingyas have entered Bangladesh since August 25, and many are living in makeshift camps.
Former UN Secretary General Kofi Annan will be at UN headquarters in New York on Friday in his capacity as chair of the advisory board on Rakhine state.