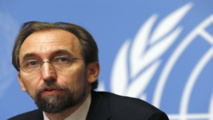 "I deplore the adoption by many countries of policies intended to make themselves as inhospitable as possible by increasing the suffering of many already vulnerable people," the high commissioner said.
Zeid - whose term ends in August - pointed to the United States, where authorities have separated nearly 2,000 children of irregular immigrants from their parents at the Mexican border.
"The thought that any state would seek to deter parents by inflicting such abuse on children is unconscionable," Zeid said, calling on Washington to end this practice immediately.
The UN diplomat also criticized Hungary for its planned law that would place restrictions on refugee aid organizations.
Zeid warned that "chauvinistic nationalism" is the most destructive force in the world, and the very opposite of what the United Nations stand for.
"So why are we so submissive to its return? Why are we in the UN so silent?" he asked.
Zeid delivered his speech amid media reports that the United States could announce its withdrawal from the Human Rights Council shortly.
Washington's UN Ambassador Nikki Haley said one year ago that the US may take such a step if the council does not stop admitting violators as its members, and if it does not end its bias against Israel. The council, however, has not been moving in Haley's direction.
Zeid also pointed his finger at a long list of countries that do not allow visits by UN human rights experts.
"These refusals of access constitute an affront to our work," said the outspoken UN rights chief, who had failed to win support for a second term in office.
Governments in Syria, Myanmar and Burundi have been refusing entry to UN investigation bodies that have been set up to look into alleged grave abuses.
No Rohingya refugees should be repatriated from neighbouring Bangladesh to Myanmar in the absence of human rights monitors, Zeid said.
The UN rights chief also called on the Human Rights Council to send investigators to Venezuela, "given the gravity and scope of human rights violations."
In North Korea, Zeid said that his UN Human Rights Office "has found little change in the country's long-standing, grave and systematic violations of human rights."
In the country, which has entered into talks over its nuclear weapons programme with the United States, people risk their lives if they try to flee or contact people abroad, according to the UN office.
Zeid also highlighted some hot spots that receive little Western attention, such as South Sudan, which has been ravaged by civil war.
Since April, government forces and affiliated groups had stepped up rapes and killings of civilians in the Unity State region.
"Human rights officers have documented the rape of children as young as 4 years old," Zeid said.