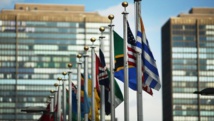 Export and trade bans imposed by the Security Council which hit vital sectors of the economy could have a direct consequence on citizens' access to medicine and hinder humanitarian efforts in the country, Tomas Ojea Quintana told the UN General Assembly in New York as he presented his annual report on North Korea.
Sanctions may have prevented access to chemotherapy medicines and the shipment of wheelchairs to North Korea, and humanitarian actors are struggling to source supplies and carry out international financial transactions necessary for their work, he said.
The sanctions regime is "not punitive in nature" and should be assessed to ensure it does not "effectively constitute a collective punishment on the ordinary citizens of the DPRK," using the country's official name, the Democratic People's Republic of Korea.
The toughest-ever sanctions passed by the Security Council on September 11 aimed to "starve the regime" into stopping its nuclear programme, US ambassador to the UN Nikki Haley said at the time.
However, the North Korean government is the "primary duty bearer" when it comes to upholding human rights in the country, Quintana said.
Kim Jong Un's regime continues to commit "grave violations" of its citizens' rights, according to testimonies of the "deplorable" conditions of detainees in holding centres near the Chinese border.
Notepad