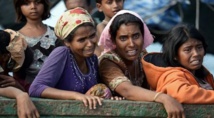 "Refugees are still fleeing, and many have suffered violence, rape, and deep psychological harm," UNHCR spokesman Adrian Edwards told reporters in Geneva.
Most of the 622,000 Rohingya refugees who have fled since late August would return to destroyed homes and deep social divisions, he said, adding that aid agencies get hardly any access to Rakhine.
"It is critical that returns do not take place precipitously or prematurely, without the informed consent of refugees or the basic elements of lasting solutions in place," Edwards said.