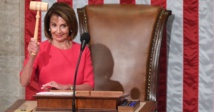 Hours after congresswoman Nancy Pelosi was elected speaker of the House, the lower chamber passed six bills to fund the government for 2019 and an additional bill to fund the Department of Homeland Security through February 8.
The bills have almost no chance of passing the Republican-controlled Senate where Republicans say they will consider only legislation that has President Donald Trump's support.
The legislation comes 13 days after about a quarter of the US government shut down and on the first day of a Democrat-controlled House.
One hundred new House members, including 63 Democrats who won election in November, convened Thursday, with Democrats holding a 235-199 majority in the 435-member lower chamber. One seat remains vacant because of allegations of election fraud in North Carolina.
Republicans and Democrats have been squabbling over spending bills to keep about a quarter of the government running after hitting an impasse on Trump's demand to fund a border wall with Mexico.
House Democrats are "diligent and persistent in trying to open up government," Pelosi told reporters earlier Thursday.
Trump will meet with Democratic lawmakers on Friday, Pelosi said.
The White House issued a notice Thursday saying the president's advisers would recommend he veto the Democrats' package of bills because they provide "unnecessary funding for wasteful programs while ignoring the Nation's urgent border security needs."
In the Senate, Trump's Republicans have a comparatively comfortable majority of 53 to 47 seats after eight new members were sworn in. However the Republican majority in the upper chamber is short of the 60 votes necessary to pass budget bills under Senate rules.
Trump, who insists on 5.6 billion dollars in funding for a wall on the US-Mexico border, made a surprise appearance in the White House briefing room to comment on the topic.
He told reporters he has received overwhelming support for his stance on building a wall, his foremost campaign promise.
"Essentially, we need protection in our country," said Trump, who maintains that criminals, gang members and drugs pour over the border. "We are going to make it good. The people of our country want it."
He then invited officials with the National Border Patrol Council to help make his case for building the barrier.
"Anywhere that you look where we have built walls they work," said Brandon Judd, president of the council. "They have been an absolute necessity for border patrol agents in securing the border."
Trump said his meeting with leaders of the council had been scheduled before the impasse over border security funding led to the shutdown.
"It just came at a very opportune time" he said, adding that he decided spontaneously as they discussed border security at a White House meeting to invite them to speak to reporters in the briefing room.
Pelosi, who was chosen speaker of the House with a majority of 220 votes, struck a conciliatory tone in her acceptance speech, referring to bipartisanship and a unifying spirit.
"We will seek to reach across the aisle in this Chamber and across the divisions in this great nation," said Pelosi, who previously held the post from 2007-11 when Democrats last had a majority in the House.
But Pelosi issued a combative statement appointing Congressman Adam Schiff to chair the powerful House Select Committee on Intelligence.
"After years of Republican partisan antics and complicity in the President's attempts to cover up the facts of the Trump-Russia connection, Congressman Schiff will bring principled leadership, integrity and transparency back to this vital committee," she said.
Before addressing his demand for funding for a wall, Trump congratulated Pelosi on her election to speaker of the House.
"Hopefully we are going to work together and get a lot of things done," Trump said. "I think it's actually going to work out. It's going to be a little bit different than a lot of people are thinking."
Notepad