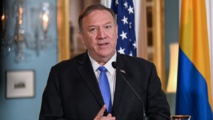 Most recently, Engel said, Pompeo's above-the-law mentality was on display when he addressed the Republican convention in prerecorded remarks from
Jerusalem
on Tuesday - in potential violation of both internal
State Department
protocols and federal ethics laws prohibiting taxpayer dollars to be used for partisan events.
"He has demonstrated alarming disregard for the laws and rules governing his own conduct and for the tools the
Constitution
provides to prevent government corruption," Engel said in a statement. "He seems to think the office he holds, the department he runs, the personnel he oversees, and the taxpayer dollars that pay for all of it are there for his personal and political benefit."
A spokeswoman for Pompeo did not immediately return a request for comment.
Engel said his Democratic-controlled committee will soon draft a formal resolution finding Pompeo in contempt of
Congress
.
The resolution would have to be approved by the full House before Pompeo can be formally held in contempt and potentially face civil or criminal consequences.
Pompeo's advisers have maintained he acted in his personal capacity while addressing the
RNC
.
However, critics have poured cold water on that argument, noting that he made the address while on a diplomatic mission to
Israel
.
Moreover, Pompeo's speech was exclusively focused on how "safe" the world has become thanks to what he described as Trump's "America first" agenda. Making matters more thorny, Pompeo recently told
U.S.
diplomats in a since-leaked cable that
State Department
officials, no matter what rank, may "not engage in any partisan political activity."
Beyond the
RNC
speech, Engel is furious with Pompeo over his refusal to comply with subpoenas for records relating to Trump's impeachment-triggering scheme to pressure
Ukraine
into launching investigations of Biden and his son, Hunter, over debunked corruption allegations.
In a defiant move, Pompeo earlier this month handed over those very records to a couple of Republican-led
Senate
committees that are investigating the claims against the Bidens and told Engel he would give him access if he launched a similar probe.
U.S.
intelligence officials have said the Biden accusations are being promoted by Russian operatives seeking to interfere in the 2020 election.
"In other words, Pompeo will give the committee what we were seeking if we join in a smear of the president's political rival," Engel said. "I want no part of it. Under no circumstances will I amplify Putin's debunked conspiracy theories or lend them credence. And I won't stand by and see the committee or the House treated with such disdain by anyone."
Engel's contempt escalation could mark one of his last major initiatives as chairman of the
House Foreign Affairs Committee
, as he's leaving
Congress
next year after losing his primary to progressive insurgent
Jamaal Bowman
.
Notepad