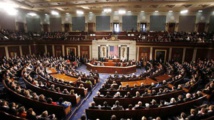 In a two-page letter to the IRS commissioner, congressman Richard Neal, who heads the House Ways and Means Committee, said it is the "unambiguous legal obligation" for the IRS to turn over Trump's taxes at his request.
"I expect a reply form the IRS by 5:00 p.m. on April 23, 2019. Please know that, if you fail to comply, your failure will be interpreted as a denial of my request," Neal said.
The demand sets up a likely court battle over the release of the documents if the IRS does not comply.
Democrats already requested six years of Trump's tax returns earlier in the month, with a deadline of April 10, but the Trump administration said they would not comply.
Trump's tax returns were a point of contention in the 2016 presidential election. Trump has refused to voluntarily release his tax returns, saying he cannot do so because they are under audit.
Former presidents dating back to Jimmy Carter have voluntarily released their tax returns.
Notepad