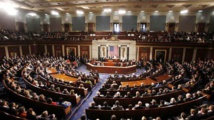 House Speaker Nancy Pelosi says the emergency declaration is "a presidential power grab" that violates the US constitution.
"This is about the constitution of the United States," Pelosi told a news conference on Monday. "We would be delinquent in our duties if we did not resist, if we did not fight back and overturn the president's resolution."
Trump declared a national emergency on February 15, saying it was necessary because illegal immigration, drug smuggling and human trafficking are rampant at the southern border.
At the same time he agreed to legislation that averted a second government shutdown, but those spending bills included about 1.375 billion dollars to build border barriers - far less than Trump sought.
A national emergency declaration clears the way for the president to take money from the Pentagon's construction budget and drug forfeitures and use it for wall construction.
Pelosi and other Democrats in the House say Trump's declaration is out of line because the constitution gives spending authority to the House. They also say there is no crisis at the border.
Pelosi predicted the resolution to block Trump's action would pass and be sent over to the Senate, where its chances of being approved are less certain.
Trump has already vowed to veto the resolution, if it reaches his desk and said there would not be enough votes to override his veto.