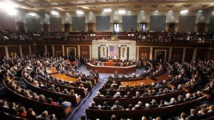 The Republican-dominated House voted 230-197 to pass the short-term spending legislation and send it to the Senate. Despite the conservative party's 51-member majority there, the bill has a higher hurdle to cross because 60 votes are necessary, and some Republicans already have said they will vote against it.
Congress has until midnight Friday to pass a spending bill and forward it to President Donald Trump. If it fails, most federal agencies will run out of money and be forced to stop operations. Hundreds of thousands of federal employees would be put on furlough.
The last time the government shut down was in October 2013 and it lasted for 16 days.
The bill that passed the House is known as a continuing resolution to fund the government for 30 days. If the Senate approves, it would be the fourth 30-day continuing resolution passed in the last several months.
The short-term bill is seen as the only option to avoid a shutdown, despite calls for a long-term spending bill.
House Republican leaders scrambled Thursday to secure votes, while Trump went to the Pentagon, where he said a government shutdown would be "the worst thing" for the Defence Department.
"The group that loses big would be our military, and we're not going to let that happen," Trump said.
He also expressed frustration in short-term spending bills, saying it "should be handled a lot differently than it's been handled over the last period of time."
Before heading to the Pentagon, Trump tweeted that Democrats care "very little" about funding the military. He also said that a government-funded healthcare programme for children should be part of a long-term solution and not part of a short-term extension.
Funding for the child healthcare programme is being discussed as a possible "sweetener" to win Democrats' support for a continuing resolution.
It appears Ryan will need that support, despite holding a majority in both chambers of Congress, because of internal divisions within the Republican Party.
Meanwhile, hard-line Democrats view a shutdown as something they could blame on Trump. Blame for the 2013 shutdown was largely placed on hard-line Republicans.
That shutdown started over Republican efforts to cancel funding for the US healthcare reform programme commonly known as Obamacare.
Non-essential government employees were sent home on furlough for the entire 16 days, and national parks, the National Zoo and NASA were all closed. Nearly 800,000 federal employees were without pay until Congress voted five days into the shutdown to pay them retroactively.
Trump may wish to avoid a shutdown because it would coincide with his plans to celebrate the first anniversary of his inauguration on Saturday at his Florida residence; he would be open to severe criticism if he is seen celebrating while the government deals with a funding crisis.