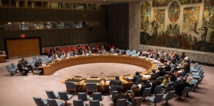 The council is expected to hold consultations on Monday after North Korea confirmed it had "successfully" tested a ballistic missile.
"The United States, along with Japan and the Republic of Korea, have requested urgent consultations on the DPRK's launch of a ballistic missile on February 12," said a US mission spokesman, adding that the meeting would likely take place in the afternoon.
The North Korean missile flew about 500 kilometres (310 miles) before falling into the sea, South Korea's defence ministry said.
The state-run KCNA news agency said "a "surface-to-surface medium long-range ballistic missile" was "successfully test-fired" on Sunday, describing it as a "Korean-style new type strategic weapon system."
The launch was seen as a test of the response from Trump, who pledged "100 percent" support to Washington's regional ally Japan.
Japanese Prime Minister Shinzo Abe, whose country would be in range of a hostile North Korean missile launch, called the test "absolutely intolerable" during an impromptu press conference with Trump in Florida.
The reclusive regime carried out more than 20 missile tests last year, one of which reached Japanese-controlled waters after a launch in August.
North Korea is barred under UN resolutions from any use of ballistic missile and nuclear technology.
The council has imposed six sets of sanctions since Pyongyang's first nuclear test in 2006.
The latest round of sanctions imposed in November includes a cap on Pyongyang's coal exports to China, aimed at depriving the communist state of hundreds of millions of dollars in revenue.