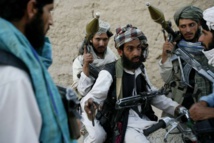 "The United States strongly condemns the horrific attack in Kabul today that killed an unconfirmed number of people and wounded more than 100 others, including as many as 50 children," Pompeo said.
"We call on the Taliban to stop attacking civilians," Pompeo said. "Today's indiscriminate assault, which caused injuries to children at school, was particularly barbarous."
The attack began with a car bomb exploding in an eastern neighbourhood of the Afghan capital, followed by a number of assailants entering a nearby building, Afghan Interior Ministry spokesman Nasrat Rahimi said.
Taliban spokesman Zabihullah Mujahid said in a statement that the target of the attack was an Afghan Defence Ministry logistics and engineering facility.
A statement from the White House press secretary confirmed that the attack involved a vehicle bombing and gun assault on an Afghan defence facility, adding that it also damaged nearby civic and cultural centres and a primary school.
Pompeo said that the US remained "committed to helping those Afghans who seek a peaceful future for their country."
US and Taliban officials have been meeting since last summer, with the last round of talks taking place in early May. The Taliban have so far refused to meet directly with the Afghan government.
Notepad