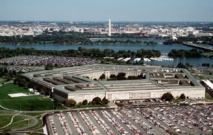 "To strengthen deterrence and response capabilities of the alliance and realize a free and open Indo-Pacific, we hope to continue to work together and deepen our cooperation," Abe said at the meeting.
"Our alliance's never been stronger," said Shanahan in Tokyo, after participating in a security summit in Singapore over the weekend.
On the sidelines of the Singapore meeting, Shanahan held talks with Japanese and South Korean defence ministers and agreed to urge North Korea to take concrete steps towards the denuclearization of the Korean Peninsula.
North Korea fired a series of projectiles in early May, including some identified as ballistic missiles, after a US attempt to negotiate with the reclusive country failed.
Tokyo lodged a protest with Pyongyang over the firing of the missiles, while US President Donald Trump's national security adviser John Bolton argued the state's actions were a violation of UN resolutions.
However, during his state visit to Japan last week, Trump downplayed the missile tests.