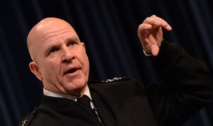 McMaster and Kalin discussed the priorities and concerns of both countries during their meeting, according to the joint statement, issued Sunday by the White House and Turkish presidency.
Among these concerns are common strategic challenges and regional developments, the statement said. It did not mention US support for Kurdish-led forces fighting in Syria, which has strained relations between the two NATO allies.
The statement said that McMaster and Kalin "addressed issues affecting bilateral relations in detail and explored ways to expand the joint fight against all forms of terrorism."
McMaster's visit follows a phone call with Kalin last month in response to Turkey's offensive in the Syrian Kurdish enclave Afrin.
The two had promised to coordinate in order to avoid having their sides engage in combat. The US backs Kurdish forces and has its own soldiers stationed in Manbij, east of Afrin.
"It was affirmed that no weapons would be given to the [Kurdish militias] and it was stressed that Turkey's legitimate security concerns must be taken into consideration," a statement released last month on the Turkish presidency website read.
US Secretary of State Rex Tillerson is expected to visit Turkey during his tour of the Middle East on February 11-16.
Notepad