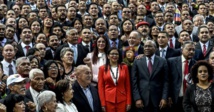 President Nicolas Maduro's government prevented aid trucks from entering from Colombia and Brazil. At least four people were killed and about 300 injured.
"[Our] efforts to date will not only continue, they will be increased," Pence told a meeting of the Lima Group of more than a dozen American countries in Bogota, adding that Washington was identifying new border areas at which to store more aid.
The US will also provide an additional 56 million dollars "to support our partners in the region as they come to the aid of the Venezuelan people," Pence said.
He announced new sanctions on Venezuelan officials, including three border-state governors who contributed to blocking aid supplies.
Colombia stressed the importance of diplomatic pressure, with President Ivan Duque saying that "the diplomatic siege ... is irreversible."
Peruvian Deputy Foreign Minister Hugo de Zela called for a solution "through peaceful means."
Mexican President Andres Manuel Lopez Obrador, whose country has tried to remain neutral and who did not attend the meeting, warned against "the temptation to use force."
Mexico is one of the few Latin American countries not to have recognized Guaido as interim president.
But Pence said that, while "we hope for a peaceful transition to democracy ... all options are on the table."
Washington will meanwhile announce "even stronger sanctions on the regime's corrupt financial networks," the vice president said, calling on the Lima Group to "intensify efforts to deny the Maduro regime access to financing."
Guaido told the meeting that it was "time to act with determination" and to "change history."
The opposition leader, who has been recognized by about 60 countries as Venezuela's interim president, wants to bring humanitarian aid to hundreds of thousands of people who, he says, are at risk due to food and medicine shortages.
But Maduro regards the aid as a disguise for a US military intervention designed to topple him.
Venezuelan security forces on Saturday used tear gas and rubber bullets against aid convoys and protesters on the border of the Colombian city of Cucuta, where hundreds of tons of aid donated by the US, Chile and Puerto Rico have been stored. Two trucks carrying aid were set on fire.
Pence and Duque called on the Venezuelan army to disobey Maduro and to allow aid deliveries. Colombia's migration authority said 167 Venezuelan security force members have already defected and crossed over into Colombia.
However, they only form a small part of the Venezuelan security force members, the vast majority of whom remain loyal to Maduro.
The meeting in Bogota was the first with Venezuelan participation in the Lima Group, which was formed in 2017 in opposition to the Maduro government.
Those in attendance included the presidents of Guatemala and Panama and the vice president of Brazil.
Maduro has presided over a massive economic crisis, with annual inflation running at millions of per cent, while more than 3 million Venezuelans have fled abroad.
The president won an election boycotted by most of the opposition last year. The National Assembly, which is headed by Guaido, wants him to resign and to call a new election.
The German government on Monday announced plans to "significantly" increase pressure on Maduro in order to pave the way for new elections in the country.