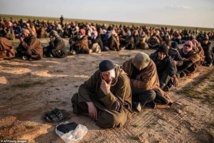 Last month, the Syrian Democratic Forces (SDF), a militia backed by a US-led coalition, started a major offensive aimed at expelling Islamic State from the village of Baghuz, the radical militia's last stronghold in eastern Syria.
The SDF later halted the fight to evacuate thousands of civilians and family members of Islamic State from the embattled village.
On Friday, the SDF forces said their members had restarted the operation after all civilians had been cleared from Baghuz.
"SDF's been advancing on two fronts into Daesh-held territory since yesterday [Friday] evening," SDF spokesman Mustafa Bali said Saturday, using an Arabic acronym for Islamic State.
Heavy clashes were raging between both sides in the area, leaving three SDF fighters injured, Bali added without details. He expected the battle to "be over soon."
Baghuz, a village on the Euphrates River in eastern Syria near the border with Iraq, is the last significant territory remaining in the hands of Islamic State, which for years controlled wide swathes of both countries.
Syria's Kurds have played a major role in fighting Islamic State in war-torn Syria.
The SDF forces have captured much of the Syrian territory once held by Islamic State, including its former de facto capital of al-Raqqa.