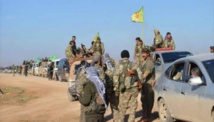 The Syrian Democratic Forces (SDF), a Kurdish-led alliance supported by the US, said Sunday in a statement that the ongoing battle comes after civilians were evacuated from al-Raqqa under a deal brokered by local tribal leaders.
Around 275 local fighters and their families have surrendered under this deal, the SDF said.
"The final battle will continue until the entire city is cleansed of terrorists, who have refused to surrender," the statement said.
About 150 foreign fighters linked to Islamic State are trapped in al-Raqqa after they refused to turn themselves in, SDF spokesman Talal Silo said.
An unspecified number of local militant fighters were still inside the city, Silo said, adding that around around 90 per cent of the city had been liberated.
A US-led alliance fighting Islamic State said on Saturday it would not allow foreign militant fighters to leave al-Raqqa, which was seized by the terrorist group in early 2014.
The SDF forces have been fighting to drive Islamic State from the city since June.
In recent months, the radical group has suffered military setbacks and lost ground in Syria and neighbouring Iraq.