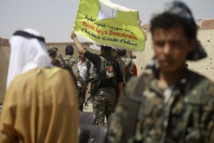 The Britain-based Syrian Observatory for Human Rights said well-trained fighters of the Syrian Democratic Forces (SDF), who have been stationed on the eastern side of the Euphrates since October, have recaptured most of the areas they lost during the weekend.
Islamic State insurgents had taken advantage of bad weather conditions and launched a series of attacks against SDF fighters east of the Euphrates.
The watchdog said, under the cover of the US-led coalition strikes, the SDF managed to retake Islamic State posts in al-Bahra area near the Hajin.
It added that some 26 Islamic State militants were killed.
The SDF suspended its operations in the eastern Euphrates region on October 31 following Turkish shelling across the border which killed at least one Kurdish civilian and injured five.
In September, SDF said its forces had started the final stage of their campaign against Islamic State in Syria's eastern province of Deir al-Zour.