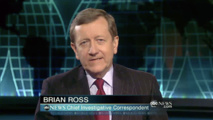 During a live television report on Friday, Ross had claimed that a confidant of Flynn's said the former national security adviser was willing to testify that then-presidential candidate Donald Trump told him to contact Russian officials during the campaign.
"We deeply regret and apologize for the serious error we made yesterday," ABC News said in a statement. "The reporting conveyed by Brian Ross during the special report had not been fully vetted through our editorial standards process."
"It is vital we get the story right and retain the trust we have built with our audience - these are our core principles. We fell far short of that yesterday."
ABC News corrected the report, saying the source clarified that Trump - as president-elect - had instead asked Flynn and a small group of other advisors to find ways to repair relations with Russia.
"My job is to hold people accountable and that's why I agree with being held accountable myself," Ross said on Twitter late Saturday.
Trump also reacted to the news of Ross' suspension on the social media platform, resorting to his preferred "fake news" catchcry.
"Congratulations to @ABC News for suspending Brian Ross for his horrendously inaccurate and dishonest report on the Russia, Russia, Russia Witch Hunt," he wrote. "More Networks and 'papers' should do the same with their Fake News!"
Flynn emerged at the centre of the investigations into Russian interference in the US presidential election and whether Trump's campaign may have colluded with the Russians.
On Friday, Flynn pleaded guilty to lying to FBI agents conducting the investigation and is cooperating with prosecutors. He resigned as national security advisor less than one month after Trump's inauguration after he admitted to "inadvertently" giving Vice President Mike Pence and others "incomplete information" about communication with the former Russian ambassador to the US.