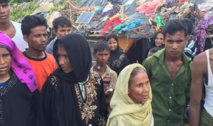 "They [Myanmar] are responsible for setting up the process and making sure that they are providing the safe and secure area for people to voluntary return," Simon Henshaw, acting Assistant Secretary of State for migration issues, told reporters in Dhaka on Saturday.
An estimated 607,320 Rohingya fled to Bangladesh to save their lives after the Myanmar army went after suspected Muslim insurgents blamed for carrying out attacks on security posts on August 25.
Henshaw on Friday visited Bangladesh's south-eastern Cox's Bazar district, where the influx of Rohingya continued, to see the refugee crisis on the ground.
The International Organisation for Migration (IOM) reported that by Friday evening 4,000 refugees crossed the border in 48 hours.
Traumatised, hungry and fearing for their lives, the refugees had camped out in the open in an area of no-man's land between the two countries, said the IOM in a statement.
The US official described the situation as complex and underscored the need for investigation into the reports of atrocities in Rakhine state and bringing those responsible to account.
Henshaw also called on the Myanmar government to allow access to the press and international organization to carry out humanitarian work in Rakhine state, the epicentre of the crisis.
The United States has allocated 32 million dollars in aid for Rohingya refugees.