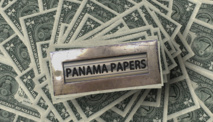 The four men - including two German citizens, one US citizen and a Panamanian - allegedly sought to circumvent US tax laws with the Panama-based global-law firm Mossack Fonseca & Co to preserve their wealth and the wealth of their clients for decades.
Three of the four suspects have been arrested while the Panamanian citizen, an attorney with Mossack Fonseca & Co, remains at large, the Justice Department said.
In detailing the 11-count indictment, which includes tax fraud, wire fraud and money laundering, the Justice Department said from around 2000 to 2017, the suspects conspired to shield the investments and assessts of US taxpaying clients from US authorities.
The 2016 Panama Papers, a massive trove of leaked documents detailing offshore tax evasion schemes, led to investigations around the world.
The prime ministers of Pakistan and Iceland left office after their offshore financial dealings were exposed.