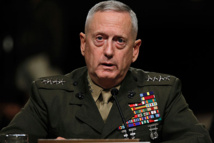 "The US commitment to the Republic of Korea remains iron-clad and the US will continue to use the full range of diplomatic and military capabilities to uphold this commitment," said Mattis before the meeting in Seoul.
Mattis was set to sit down with Song to discuss their alliance and explain how the deal struck between US President Donald Trump and North Korean leader Kim Jong Un earlier this month will be implemented.
Kim reaffirmed his vow at the leaders' Singapore summit to completely denuclearize North Korea, but did not outline any details or concrete steps his country would take.
In return, Trump announced that large-scale annual joint war games with South Korea would be suspended, in a decision that took Seoul by surprise.
Repeating North Korean arguments, Trump said the games were "provocative" to Pyongyang and added that they were "very expensive."
The suspension of the exercises was regarded as a major win for Pyongyang, as well as for regional superpower and North Korea ally, China.
"The recent decision to suspend the Freedom Guardian exercise creates an increased opportunity for our diplomats to negotiate, increasing the prospects for a peaceful solution on the Korean Peninsula," said Mattis.
"This includes maintaining the current US force levels on the Korean Peninsula," he added. The US currently has 28,500 troops stationed as a deterrent against security threats from North Korea.
Mattis' South Korea visit is the second stop on his current Asia trip after China. He will travel to Japan on Friday.