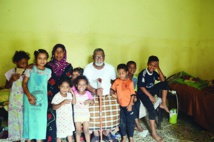 Washington welcomed this week's announcement by Riyadh and the Saudi-led coalition that the strategic port of Hudaydah and Sana'a International Airport were being reopened to allow the urgent flow of humanitarian aid.
"The magnitude of suffering in Yemen requires all parties to this conflict to focus on assistance to those in need," the White House said in a statement. "All sides must support a political process with facilitating humanitarian relief as the top priority."
The US called for "additional steps" to allow humanitarian and commercial goods to flow through all of Yemen's ports of entry to meet the needs of Yemenis and the aid organizations combating the "humanitarian crisis."
Saudi Arabia and its Sunni allies had said that shipments were to have resumed Thursday.
Seventeen million of the country's 27 million people are suffering from food insecurity, according to the World Food Programme.
The Saudi-led coalition has been fighting the Iran-backed Shiite Houthi rebels, who seized control of the Yemeni capital Sana'a in late 2014 and have since taken over other parts of the country.
The coalition closed all airports and ports on November 5, one day after the Houthis fired a ballistic missile at the Saudi capital Riyadh. The Saudis lifted the blockade on two airports on November 11.
Washington accused Iran of exploiting "the grave humanitarian crisis in Yemen to advance its regional ambitions" and called on the international community to "take the necessary steps to hold the Iranian regime accountable."
"We remain committed to supporting Saudi Arabia and all our Gulf partners against the Iranian Islamic Revolutionary Guard Corps' aggression and blatant violations of international law," the White House said.