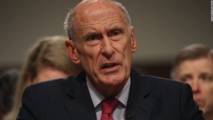 Speaking at the Senate Intelligence Committee, Director of National Security Daniel Coats said "there should be no doubt" that Russia perceives its efforts to meddle in the 2016 election "as a success."
Moscow "views the 2018 mid-term elections" as its next opportunity to try to influence the democratic process in the US, he added.
US spy agencies have long said they believe that Russia tried to sway the 2016 poll in Trump's favour through social media propaganda and hacking Democratic Party emails. Russia denies the allegations.
Democrat Mark Warner, the committee's vice chairman, criticized the administration of Donald Trump for failing to prepare the country for a repeat attack, saying the president "continues to deny the threat."
Both major US political parties are gearing up for mid-term legislative elections in November.
The president's conservative Republican Party will be seeking to defend its majorities in the House of Representatives and the Senate, while Democrats are hoping for victories based on strong anti-Trump sentiment.