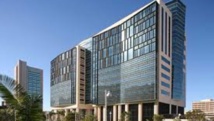 ICE "shall discuss how ICE utilizes transfers and whether such transfers have been known to result in an increase in COVID-19 cases at any of the detention centers at issue," Cooke said in a court filing over the weekend, giving the agency a deadline of noon Monday, two days before a scheduled court hearing.
Cooke's request is part of an ongoing lawsuit seeking to release detainees who were, are, or will be held at the Krome Processing Center in
Miami-Dade
, the Broward Transitional Center in
Pompano Beach
and the
Glades County
detention center in
Moore Haven
since the lawsuit was filed by six national immigration law firms on
April 13
.
The
Department of Homeland Security
confirmed to the
Miami Herald
that the increase in cases came after 33 detainees were transferred from Krome to BTC on
May 14
. After the detainees arrived, they were separated into groups of six and then tested for the coronavirus, federal sources said. According to ICE data, 16 of them tested positive, bringing
Broward's
case tally to 19 as of Sunday night.
Broward's
numbers now exceed the count of confirmed positive cases at the Krome detention center in
Miami-Dade
, which has slowly climbed to 13 over the last two months. Though ICE data doesn't reflect
Glades
having any confirmed cases as of late Sunday, at least three detainees with coronavirus symptoms at the facility were separated over the weekend after their temperatures were taken, 11 detainees and four of their lawyers told the Herald.
"They are taking sick people out of the dorms," one detainee said Sunday. "So far three were taken from my pod and they haven't come back."
Said another: "Medical (staff) just started coming in to our housing units the last two days and taking our temperatures. Three people had high fevers and were taken away."
Though transferring detainees is common practice for ICE, the agency told the court that transfers were accelerated when the litigation was filed to bring populations down. As a result, ICE moved detainees to centers in
North Florida
,
Georgia
,
New Mexico
,
Louisiana
,
Texas
and
Arizona
.
While lawyers representing immigration detainees called the practice a "shell game," the judge had said the transferring of detainees to other centers to bring
South Florida
populations down was OK.
But now, the subject of transfers has raised more questions. At a hearing last week, federal magistrate Judge
Jonathan Goodman
, who is presiding over the case with
Judge Cooke
, asked ICE to "voluntarily produce" its transfer data for the last month to the court.
Goodman's request was made days after ICE filed documents saying it had complied with a federal judge's order to cut populations at Krome, BTC and
Glades
. Citing "cruel and unusual punishment" behind bars, Cooke had issued a 14-day temporary restraining order last month saying ICE must shrink its detainee populations at the centers to 75% of the capacity to allow for social distancing. That order was extended for another two weeks, until
May 28
. Whether it will be extended again will be discussed at Wednesday's court hearing.
During Goodman's hearing, both parties presented their arguments on whether or not the lawsuit _ which was filed on behalf of 58 detainees _ warrants a "class" certification, a move that would seek to extend protections to at least 1,200 detainees.
ICE said that when detainees are transferred to other facilities outside of the three detention centers at question, they no longer have grounds to "complain" within the court's jurisdiction and that their case should be "mooted."
"The individual ceases to be detained when they depart the detention center," the agency's attorney said. "They lose the standing to complain because they are no longer there."
But the attorneys representing the detainees _ the
University of Miami's
immigration law clinic, the
Southern Poverty Law Center
, the Rapid Defense Network in
New York
, the Legal Aid Service of
Broward County
, Americans for Immigrant Justice,
Washington, D.C.
-based law firm King & Spalding and
Miami
law firm Prada Uriza _ disagreed.
"Release is not the same as a transfer; they are still very much in ICE custody," said
Scott Edson
, a class action defense attorney with King & Spalding. "Even if ICE momentarily satisfies" guidelines from the
Centers for Disease Control and Prevention
for social distancing and hygiene, he added, "it still would not moot their case because tomorrow ICE can send them back to live in squalor."
In a recommendation to Cooke over the weekend, Goodman said that because each detainee has to be evaluated individually on a case-by-case basis for release, a class action lawsuit wouldn't be appropriate when it comes to the release of detainees en masse.
However, he recommended that Cooke grant the class action certification based on the conditions of confinement, noting that detainees who were held, are held and will be held at the three centers should not be excluded from litigation "as this Court does not lose jurisdiction over the claims of a detainee who was transferred."
"Any detainee transferred into the three facilities would reap the benefit of injunctive or declaratory relief concerning conditions provided to the named Petitioners and other class members," Goodman said. "At bottom, class certification on some claims is certainly a step forward for Plaintiffs. But it is only one step on a multi-step journey likely to be filled with precedent-based potholes and ... legal road hazards."
Goodman ended his report by saying any objections to his position are due by
June 5
, as well as with a "well-known ancient Chinese proverb, probably first written between the 4th and 6th centuries."
"But 'a journey of a thousand miles begins with a single step,' and Plaintiffs have already taken a few substantial steps."