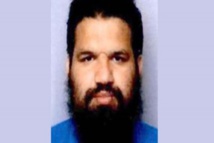 Fabien Clain
The coalition said on its Twitter account that Abu Anas al-Faransi, also known as Fabien Clain, was a media official within the Islamic State extremist group.
It was not clear when was he killed.
According to media reports, he was identified as the voice in an audio recording that claimed the 2015 Paris attacks for the Islamic State group.
The attacks in November 2015 killed 130 people at the Bataclan theatre, cafe and bar terraces in the east of the French capital, and in the city's Stade de France stadium.
"#CJTFOIR continues to target Daesh in Syria while disrupting attempts to reemerge in liberated areas as they plot attacks globally," the coalition added.
US-backed Syrian rebels, the Syrian Democratic Forces (SDF), have been pushing to capture Baghuz from Islamic State in recent weeks.
This week, Iraqi President Barham Salih said that the Kurdish-led forces have handed 13 French members of the Islamic State extremist group over to Iraq.
The 13 had been accused of attacking Iraqis or Iraqi facilities and would be tried under Iraqi law, Salih said in Paris.
SDF forces said they have already captured about 1,300 foreign jihadists.