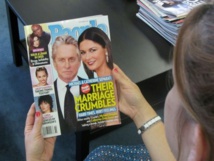 The company known for Time magazine, Sports Illustrated, Fortune and People magazine was spun off from media-entertainment group Time Warner -- parent of CNN, HBO and the Warner Bros. studios -- in 2014, following a trend of other conglomerates shedding publishing operations.
A Time Inc. statement said it had not sought any strategic tie-up but had "evaluated a number of expressions of interest" before decided to stick with its plan.
"Time Inc. is one of the world's leading multi-platform media companies, engaging over 170 million US consumers across digital and print every month through a portfolio of premium, iconic brands," said a statement from the lead independent director on its board, John Fahey.
"We strongly believe in the future and potential of this company. The board has full confidence in Time Inc. president and CEO Rich Battista and the management team to execute on the strategic plan."
The plan includes boosting digital readership and advertising, expanding and diversifying its offerings in broadcast and other platforms. and refining its data and targeting of audiences.
"Time Inc. is a reinvigorated company uniquely positioned to succeed in the multi-platform media marketplace with an exceptional set of brands and assets, tremendous scale and significant untapped potential," Battista said.
"The company is better positioned to capitalize on this potential with its recent shift from a siloed, legacy publishing structure, to an integrated, enterprise platform structure."
Shares in Time, which had risen some 32 percent since November on merger speculation, tumbled 18 percent to $14.98 in midday trade on Wall Street.
Like other legacy media groups, Time has struggled as more readers shift to digital platforms, where revenues are more difficult.
The group reported a net loss of $48 million for 2016 on revenues which dipped one percent to $3.08 billion, amid declines in print advertising.