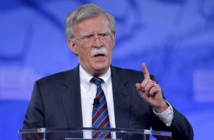 In an interview with CNN, Bolton said he does, however, believe some European countries will end up supporting the US over Iran following the US decision to leave the 2015 Iran nuclear deal.
"I think the Europeans will see that's in their interest ultimately to go along with this," Bolton said.
Iranian President Hassan Rowhani said on Sunday that the US exit from the deal could spell the end of diplomacy as a solution to political differences.
"The US withdrawal from an international deal is also a violation of political ethics and signals the end of diplomatic solutions," said Rowhani, days after US President Donald Trump announced the decision.
Rowhani added that the nuclear deal, and with it trust in international pacts, could still be saved by the five other signatories to the agreement - Germany, France, Britain, China and Russia.
He said Iran's decision on whether or not to remain in the deal depended on the quintet's ability to continue holding up its end.
British Prime Minister Theresa May spoke with Rowhani by phone on Sunday, reassuring him that "we and our European partners remain firmly committed to ensuring the Iran deal is upheld."
May also commended Rowhani's commitment to stick to the deal's terms, a Downing Street spokesman said, according to the Press Association.
Trump on Tuesday said the US was leaving the deal, signed under his predecessor, Barack Obama, which was meant to stop Iran from obtaining nuclear weapons in return for the lifting of sanctions.
Iranian Foreign Minister Mohammad Javad Zarif set off on a diplomatic tour on Sunday in efforts to continue the implementation of the economic portion of the deal, with plans to meet with his five counterparts in Beijing, Moscow and Brussels in the next three days.
Meanwhile US Secretary of State Mike Pompeo said it was "ludicrous" to suggest the US decision to withdraw from the deal spurred a recent escalation in tensions between Israel and Iran, in comments broadcast on Fox News on Sunday.
On Thursday, Israel said the Iranian Quds Force shot 20 rockets into the Israeli-controlled Golan Heights, and in response the Israeli air force targeted dozens of targets in Syria.
It was the most severe flare-up between Israel and Iran over Tehran's actions in Syria.