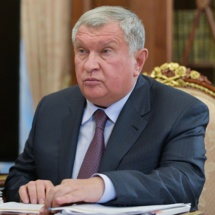 US officials described the move against the firm, which is a subsidiary of a Russian state-controlled energy giant and is based in Switzerland, as a shot across the bows, warning other companies not to attempt to skirt Washington's sanctions regime on Maduro.
All property and interests of Rosneft Trading and its president, Didier Casimiro, are blocked, under the order from the US Treasury Department.
US Secretary of State Mike Pompeo said the US was "cutting off Maduro's main lifeline to evade our sanctions on the Venezuelan oil sector."
Russia is a major backer of the government in Caracas, and oil exports are a vital source of foreign revenue.
"Those who prop up the corrupt regime and enable its repression of the Venezuelan people will be held accountable," Pompeo said.
US officials said the so-called maximum pressure campaign was at about half of its potential strength, but insisted the latest sanctions would not have a serious negative effect on energy markets.
Treasury was also granting limited wind-down mechanisms for companies to end their ties with Rosneft Trading.
Officials insisted they are using sanctions in a calculated and deliberate manner, and want to ensure the dollar's continued dominant role in global markets.
Washington is looking to overthrow Maduro and, along with other Western and European nations, has recognized opposition leader Juan Guaido as the country's legitimate president.