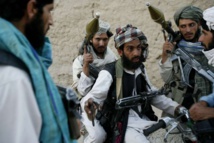 The US service member died after sustaining injuries in a helicopter crash in Afghanistan's south-eastern Logar province, according to a statement by NATO's Resolute Support mission.
Six other US crew members injured in the crash in Kharwar district were receiving treatment, which the statement said "was not a result of enemy action."
"We are deeply saddened by the loss of our comrade," General John Nicholson of NATO's Resolute Support mission said in the statement.
Earlier, General Mohammad Radmanish, an Afghan defence ministry spokesman and Hasibullah Stanekzai, a provincial council member from Logar, had said that the helicopter belonged to Afghan troops, not the US forces.
Radmanish stated that the helicopter had crashed during take-off in Begama area of Kharwar district during a joint operation between Afghan and foreign forces.
Taliban spokesman Zabihullah Mujahid claimed that the "US" helicopter had been shot down by their fighters.
"US Chinook helicopter crashes in Begama area of Kharwar #Logar, 43 American invaders & hirelings killed," Mujahid wrote on Twitter.
Two US military personnel suffered minor injuries after their helicopter crashed in Achin district of eastern Nangarhar province during an operation in early August.
Elsewhere in Afghanistan, nine police were killed after two separate checkposts were attacked by Taliban militants early Saturday morning in southeastern Ghazni province, officials said.
Taliban militants attacked two checkposts in southern and western oustskirs of Ghazni city, the capital of the province with the same name, Mohammad Arif Noori, a spokesman for the Ghazni Governor, told dpa.
He said two policemen were also wounded in the incident.
However, Nasir Ahmad Faqiri, a provincial council member from Ghazni, said 12 police officers were killed in the attacks.
Thirty Afghan security forces were killed during a coordinated Taliban attack in Andar district of Ghazni mid October.