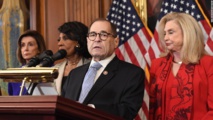 and a federal ban on housing evictions. Financial assistance to small business is soon set to run out.
"We'll be meeting this afternoon, and I will once again make the offer: We'll come down a trillion you go up a trillion and we'll be within range of each other," Speaker of the House Nancy Pelosi told reporters ahead of the meeting.
"We have a moral responsibility to find common ground," said Pelosi, the top Democrat in Congress.
However, the sides seem far apart, with a host of technical issues beyond the dollar figure threatening to lead to an impasse.
President Donald Trump has threatened to take executive action, although his options are limited. His key economic adviser, Larry Kudlow, went on CNN as the latest round of talks were set to begin to insist the president was not bluffing.
"He will use his executive authority... because we can't seem to reach a compromise with the other team," Kudlow warned. Such an order could further damage the prospects for a deal.
Democrats want a wide-ranging bill worth some 3 trillion dollars.
Republicans have made a pared-down proposal worth about 1 trillion dollars, but have made some concessions, including on the size and length of unemployment assistance.
Pelosi has ruled out reaching a temporary piecemeal agreement that narrowly focuses on unemployment benefits, as she fears she will lose her advantage in talks to force a larger bill.
Congress has already allocated 3 trillion dollars in the stimulus bills enacted since March to fight the pandemic and help the economy, with fiscal hawks growing increasingly worried about the deficit.
However, the unemployment rate remains in the double digits and there are signs that the economic recovery is slowing.
Meanwhile the number of new infections continues to rise, further threatening a rebound from the worst recession since World War II.