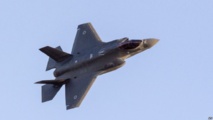 The strikes were launched after pro-Syrian government forces "initiated an unprovoked attack" on one of the headquarters of the US-allied Syrian Democratic Forces (SDF), the coalition said in a statement.
Coalition partners had been with the SDF during the attack, which took place on Wednesday, eight kilometres east of the Euphrates River de-confliction line, the coalition said in a statement.
"In defence of coalition and partner forces, the coalition conducted strikes against attacking forces to repel the act of aggression against partners engaged in the Global Coalition's defeat-Daesh mission," the statement continued.
The broadcaster CNN quoted a US military official as saying that the attack on the SDF had likely been an attempt to seize territory, including oli fields, which had been retaken from Islamic State in September.
"We estimate more than 100 Syrian pro-regime forces were killed while engaging [Syrian Democratic Forces] and coalition forces," he said.
No coalition personnel had been killed in the clash, but one member of the SDF had been injured, he said.