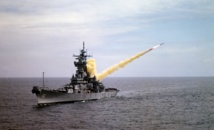 In its latest overview of global arms transfers, the Stockholm International Peace Research Institute (SIPRI) estimated that the global volume of arms transfers increased by 10 per cent in the 2013-2017 period, compared with 2008-2012.
The US accounted for 34 per cent of global arms sales during the period, and sold arms to at least 98 countries, SIPRI said. A large portion of US exports comprised combat and transport aircraft.
US exports in the period 2008-2012 totalled 30 per cent of the world total.
Just under half of the US sales went to the Middle East, while Asia accounted for a third. Saudi Arabia was the single-most important US export market, accounting for almost one-fifth of US sales.
Russia was the world's second-largest exporter with about one-fifth of global arms deliveries, shipping arms to 47 countries as well as rebel forces in Ukraine, the think tank said. Over half of Russia's exports went to India, China and Vietnam.
France was the third largest exporter, followed by Germany and China.
Five countries - India, Saudi Arabia, Egypt, the United Arab Emirates (UAE) and China - accounted for just over a third of global arms imports.
India was the world's top arms importer during the period with 12 per cent. Its main suppliers were Russia, the US and Israel.