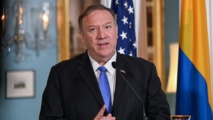 "US support for Ukraine is unwavering," US Secretary of State Mike Pompeo said in a statement as he arrived in Kiev the previous evening on a trip to several former Soviet republics.
Zelensky, a career actor and comedian inaugurated last year on promises to root out entrenched corruption in the former Soviet republic, has become caught up in domestic US politics as his conversations with Trump are at the centre of the impeachment trial.
Trump has been accused of abusing his position as president to pressure Ukraine to dig up compromising information about political rival Joe Biden, who is running for the presidency this year.
Democrats say Trump tied a freeze on congressionally approved military aid for Ukraine to the Biden investigation. The hold was later lifted and Trump denies any wrongdoing.
In an apparent reference to the hold being lifted, Zelensky thanked Pompeo for 365 million dollars of US assistance to enhance Ukraine's armed forces.
"We appreciate your support in reforming the armed forces of Ukraine, supplying weapons and equipment, conducting military exercises for Ukrainian units," Zelensky said, according to a statement by his office.
Pompeo also attend a mourning ceremony in Kiev to honour those who have died in a years-long conflict between pro-Russian separatists and the Ukrainian military in eastern Ukraine, near the Russian border. Ukraine has accused Russia of directly fuelling the conflict.
Notepad