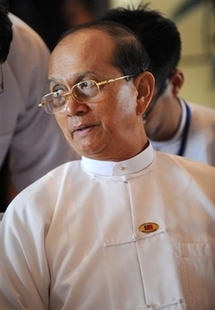 "We would like to see countries individually and through ASEAN reach out to the Burmese leadership, persuade them to start planning for free, fair and credible elections in 2010," Clinton said, using the country's former name.
"Certainly China has the opportunity to play a very positive role, as does Thailand, India and other ASEAN countries,"
Military-run Myanmar is an ASEAN member and its prime minister, Thein Sein, is expected to join Sunday's talks with Obama in what would be the first meeting between a US president and a Myanmar leader in 43 years.
China and India are seen as among the few countries with any influence over the reclusive regime, because of their common borders as well as their status as important trading partners.
Another nation with some economic sway is Japan.
After meeting Clinton, Foreign Minister Katsuya Okada said "Japan and the United States should cooperate so that Myanmar's elections next year will be carried out in a manner open to all parties".
Myanmar's generals are preparing to hold the first elections in two decades next year, but democracy leader Aung San Suu Kyi has called for a boycott, calling them a sham designed to legitimise the junta.
Suu Kyi's National League for Democracy (NLD) won a 1990 election in a landslide but the results were never recognised, and she has spent most of the years since under house arrest.
The US administration is now promoting engagement with the military regime because sanctions on their own have failed to bear fruit.
As part of the newly inclusive approach, Clinton said it was in the interests of Myanmar's neighbours to push for democratic reforms after four decades of military rule.
"It is also important to recognise that left alone, the international problems within Burma are not confined within Burma's border," she said, noting that refugees have flowed into Thailand, Malaysia, Indonesia and Australia.
"That instability isn't good for anyone."
A State Department official said China was on board with the new US policy. "The Chinese have welcomed this approach" and are "prepared to support American efforts", he said.
The United States last week sent two senior officials to the isolated state to try to promote a new dialogue.
However, Clinton said that despite "thorough and constructive" meetings including with Suu Kyi, "there is a lot of work to do" and progress would not be "easy and quick".
"I reiterated that US sanctions will remain in place until we see meaningful progress in key areas," she said after talks with foreign ministers at the Asia-Pacific Economic Cooperation (APEC) forum in Singapore.
In a message published in the government press on Wednesday to mark the country's national day, junta chief Than Shwe rejected "neo-colonialist" interference in Myanmar's affairs by unidentified countries.
The NLD meanwhile urged "meaningful political dialogue to solve the political, economic, social, educational and health crises (and) for national reconciliation".
------------------------------------------------------------------------------------------------------------------------------
Image: General Thein Sein (Stan Honda/AFP).