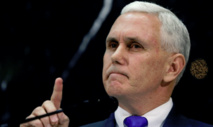 Pence said President Donald Trump sent him to Latin America to make it clear across the region that "the United States will not stand by while Venezuela crumbles," Pence said.
Pence, who is on the second leg of a visit to Latin America, spoke in Buenos Aires during a joint news conference with Argentinian President Mauricio Macri.
Pence said Trump has made it clear that the US has many options at its disposal, but believes that, by increasing economic and diplomatic pressure on Venezuelan President Nicolas Maduro, "we can achieve the restoration of democracy in Venezuela by peaceable means."
The political crisis in Venezuela has been at the top of Pence's agenda during his tour, which also will take him to Chile and Panama.
Macri said he and Pence shared their concern about developments in Venezuela during their meeting.
"We reiterated - both of us - the need to continue to demand of President Maduro an electoral schedule, respect for individual liberties, for the independence of the powers and to stop actions that have only impoverished Venezuela and have greatly damaged its population."
Macri spoke extensively about strengthening economic ties with the US. He said he and Pence discussed trade, jobs and other economic matters, as well as fighting drug trafficking, terrorism, money laundering and corruption.