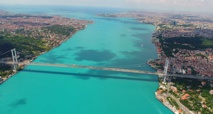 Closing the Bosporus Strait would prevent Russian vessels from travelling between the Mediterranean Sea and the Black Sea. Ukraine accuses Russia of restricting access to another waterway on the Black Sea, the Kerch Strait, which connects with the Sea of Azov.
The Russian coastguard opened fire and then captured several Ukrainian naval ships in the Kerch Strait at the weekend, alleging they had illegally crossed into Russian territorial waters near the disputed Crimea region.
"I express confidence that the international community will recognize that an act of aggression has been committed against Ukraine," Voronchenko said in comments carried by state news agency Ukrinform.
Russia occupied and annexed Crimea four years ago in response to Ukraine ousting its Russian-backed president in a pivot towards the West. Ukraine considers Crimea its territory.
It appears unlikely that Turkey would close the Bosporus as Turkish President Recep Tayyip Erdogan seeks to defuse the tensions between Russia and Ukraine.
Before leaving for this weekend's G20 summit in Argentina, Erdogan said he spoke to both Putin and Ukrainian President Petro Poroshenko in separate phone calls about whether Turkey could serve as a mediator.
Both sides have "made some demands," Erdogan said, adding that the discussions would continue with Putin and US President Donald Trump on the sidelines of the summit.
Poroshenko has called on NATO to "send naval ships to the Sea of Azov to support Ukraine and provide security," according to an interview with the German newspaper Bild published Thursday.
Poroshenko accused Putin of seeing himself as a "Russian emperor" and Ukraine as a Russian colony. "We can't accept Russia's aggressive policies. First it was the Crimea, then eastern Ukraine, now he wants the Sea of Azov," Poroshenko said, calling for further Western sanctions against Russia.
German Chancellor Angela Merkel demanded in separate comments that Russia enable unrestricted access to the Sea of Azov and said she would discuss the incident with Putin at the G20 summit.
"There is no military solution," Merkel cautioned at the opening of a German-Ukrainian economic forum in Berlin as German Foreign Minister Heiko Maas was due to meet his Ukrainian counterpart Volodymyr Groysman.
Merkel demanded that Russia release the Ukrainian personnel that it captured in the incident. A Russian court in Crimea has jailed more than 20 such Ukrainians on a charge of illegally crossing the Russian border.
Ukraine's pro-Western leadership aspires to join the Western military alliance NATO as protection against neighbouring Russia, which Ukraine accuses of fuelling a separatist rebellion near their shared border in Ukraine's eastern-most Luhansk and Donetsk regions.
More than 10,000 people, including 2,700 civilians, have been killed in the simmering conflict, according to estimates by the United Nations. Putin has represented the separatists in international negotiations, but his government denies providing active servicemen or weaponry to them.
"Since Russia's illegal annexation of Crimea in 2014, NATO has substantially increased its presence in the Black Sea," the Western alliance's spokeswoman Oana Lungescu said in a statement on Thursday.
"There is already a lot of NATO in the Black Sea, and we will continue to assess our presence in the region," Lungescu said. "NATO and its allies continue to give strong political and practical support to Ukraine."