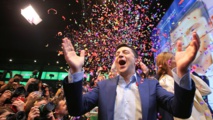 Zelensky, a dark horse candidate who has never before held a political post, plays a fictional candidate on a popular television show. He has presented himself as an alternative to a political establishment that has long struggled with entrenched corruption.
"I'm just a person, a person who has come to break the system," Zelensky said in a debate with Poroshenko last week in Kiev's Olympic Stadium. Poroshenko accused him of "making a mockery of the country."
Poroshenko led the country through its toughest period in post-Soviet history, with the Ukrainian military battling pro-Russian separatists near the Russian border for the past five years.
While the country has struggled with the conflict, Poroshenko has appeared slow in enacting expected reforms following the pro-Western revolution that brought him to power.
Amid the devastation of the conflict, Ukraine is broadly expected to continue a pro-Western course no matter who wins the election, pundits have told dpa.