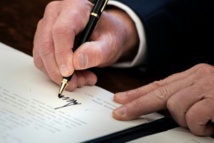 Washington -
By Shabtai Gold,
-
US President Donald Trump said Wednesday that he will sign an executive order soon on migration policy, with the goal of keeping families together, after coming under harsh criticism for the separation of children from their parents at the southern border.
"We are looking to keep families together. We are going to be signing an executive order in a little while," Trump said at the White House.
While Trump said the order would be signed before he heads to a campaign rally later in the day, the exact nature of the guidance he would be giving to immigration officers is not clear.
The matter has become a political flashpoint, and lawmakers are working on their own versions of potential fixes as the president seeks to take what he described as "pre-emptive" action.
The president has repeatedly blamed the opposition Democratic Party for the situation at the US border with Mexico, while his administration insists there is no policy of separation.
Both claims are viewed as false.
A new measure from the president would give a boost to Trump's critics and indicate that he had the power all along to prevent the heartbreaking images of scared children and audio clips of youngsters wailing for their parents.
"If you are really, really pathetically weak, the country will be overrun with millions of people. But if you are strong you don't have a heart. Perhaps I'd rather be strong. That's a tough dilemma," Trump said.
"We have to keep our borders strong, otherwise we will be overrun by crime and people who do not belong in our country," Trump added.
"We want heart but we also want strong borders."
As Trump looks at executive action, his Republican Party was working on legislation that will allow families detained at the US-Mexico border to stay together, said Paul Ryan, the speaker of the House of Representatives, prior to Trump's remarks.
"We don't think families should be separated. Period," said Ryan, a senior Republican. "We can enforce our laws and keep families together."
A vote in the lower house on narrow immigration reform is due on Thursday, Ryan said, adding that it was in coordination with Trump.
It would need to be reconciled with a version being worked on in the Senate, the upper chamber, and that step would be very difficult.
Among Republican proposals is to have families detained at the border processed within days, allowing them to be kept together during the judicial review of their case. Valid claims would then be released.
There is no expectation that Trump - who ran for office pushing a tough line on immigration and promising a massive border wall along the southern frontier with Mexico - would end his so-called zero-tolerance policy towards irregular migration.
The administration is urging migrants to enter only at ports of entry, including for asylum claims, as otherwise the person is committing a crime, which leads to the separations.
However, Trump's officials have also admitted that people are being turned away at the border due to a lack of resources.