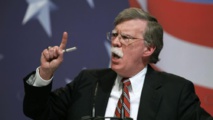 The conference comes as a conflict between the US and Iran has mounted in recent days following the downing of an unmanned US spy drone and a subsequent US announcement that it will slap new sanctions on the country.
Israeli Prime Minister Benjamin Netanyahu described the meeting as "historic and unprecedented" and said it is "a very important summit for ensuring stability in the Middle East during turbulent times."
United States National Security Advisor Ambassador John Bolton, Israeli National Security Advisor Meir Ben-Shabbat and Russian Security Council Secretary General Nikolai Patrushev are set to participate in trilateral and bilateral meetings.
According to Russian state news agency TASS, Patrushev highlighted that at the meeting "Russia will take Iran's interests into account, making them known to the Israelis and the Americans."
He said the meeting will focus on the situation in Syria, where Iran has a presence.
During the Syrian civil war, Israel repeatedly launched airstrikes against Iranian targets in Syria.
Russia has managed to maintain close relations with both Iran and Israel.
In a press conference with Netanyahu in Jerusalem on Sunday, Bolton warned Iran that it should not "mistake US prudence and discretion for weakness," after President Donald Trump called off strikes against Iranian targets on Friday.
Bolton said: "our military is rebuilt, new and ready to go - by far the best in the world."
Notepad