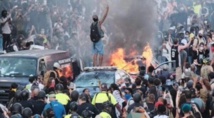 "We all watch in horror and consternation what's going on in the United States," Canadian Prime Minister Justin Trudeau said last week after a remarkably long pause to a reporter's question about the protests. "It is a time to pull people together but it is a time to listen, it is a time to learn what injustices continue, despite progress over years and decades."
The German and Australian governments have criticized the abusive treatment of journalists from their countries by American police officers and National Guard soldiers while they were covering street protests in Minneapolis and Washington.
And the European Union's foreign policy chief, Josep Borrell Fontelles, said he was "shocked and appalled" by the death of George Floyd under the knee of a white police officer. "This is an abuse of power and this has to be denounced, has to be combated in the States and everywhere."
Particularly damaging, say historians and former diplomats, to the reputation of the United States as the Western world's foremost defender of freedom of speech and rule of law have been the images of protesters outside the White House being gassed for a path to be cleared for a Bible-holding Trump to have his picture taken in front of a nearby historically significant church.
Those images of the president standing alongside his highest-ranking military officer, Chairman of the Joint Chiefs of Staff Gen. Mark Milley, unusually clad in battle fatigues, as well as the heads of the country's most important domestic and international security agencies, were a shock to the global system, former diplomats said.
"It's definitely not too soon to talk about how this is going to impact our credibility," said Elizabeth Shackelford, a former Foreign Service officer who resigned her position at the State Department in December 2017 in protest of the Trump administration's policies. "We've been slowly losing trust throughout the war-on-terror years and then it just plummeted in a particularly spectacular way during the Trump administration."
Washington will need to be clear-eyed about the long-term damage done to its reputation as it looks to rebuild trust, said Shackelford, whose new book, "The Dissent Channel: American Diplomacy in a Dishonest Age," examines the structural reasons for the failings of modern U.S. foreign policy. "You can lose trust overnight and then it takes a really long time to build trust back. I think we're going to have to realize that is the case with our allies and our influence overseas."
Naima Green-Riley, a former U.S. diplomat who was posted in Egypt at the start of the Arab Spring and is now pursuing a Ph.D. in international relations at Harvard University, said she is worried about how other countries that still uphold liberal democratic values will move forward "in the absence of strong U.S. leadership."
"What the Trump administration is doing puts a lot of our friends and allies in a very difficult situation because now they don't see a leadership model that they can use to support some of the things that they believe in," she said. "President Trump's actions and rhetoric right now resemble authoritarianism. What he is doing now sends a message to the world that 'might is right.'"
Adversaries such as Russia and to a lesser extent China have been making propaganda hay out of the civil discord in the United States.
"You can bet authoritarian governments around the world, especially in Moscow and Beijing, hear loud and clear the president's messages stoking doubts about our elections, suppressing voters, and inciting violence," said Sen. Sherrod Brown, D-Ohio, at a Senate Banking Committee hearing last week. "And they will use his words and his actions to justify their own brutality."
Indeed, former U.S. diplomats said they feared Trump's actions, those of other senior officials in his administration as well as rank-and-file security forces would make the job of Americans working abroad as diplomats, international development professionals and trade negotiators more difficult as they try to hold the line in pressing other countries to respect human rights and freedom of the press.
"For American diplomats working in autocratic states or countries governed by dictatorial systems, this kind of stuff in the United States makes it even harder to drive the point home to the host governments that ignoring press freedoms is harmful to their own political futures," said Robert Ford, who served as the U.S. ambassador to Syria during the first years of its civil war and is now a senior fellow at the Middle East Institute. "Dictatorial governments will enjoy tweaking us back and saying 'You're no better than we are.'"
Martha Bayles, a humanities professor at Boston College whose research has focused on public diplomacy and the global decline of press freedom, said she sees differences in how the Russian and Chinese governments have used their propaganda apparatuses to try to spin the American protests to their advantage.
"For the Chinese, it's much more complicated because how do they disparage the United States for what's going on when everyone knows what's going on in Hong Kong, not to mention in Xinjiang province.
"The Chinese (Communist) Party is in a bind about how to make hay out of this," she said. "But the Russians are kind of reveling because they don't expect to gain much advantage by it except weakening the United States, which is their goal."
Steven Pifer, a retired Foreign Service officer whose career included stints in Moscow and Warsaw as well as a posting as ambassador to Ukraine, said Trump's handling of the protests will make it more difficult for the United States to credibly criticize other governments when they crackdown on street protests and other forms of popular dissent.
"The Russians, I believe, love this," he said. "Any time in the future there is an American protest when the Russians crackdown on a demonstration, this is going to be tossed back in our face."
The cognitive dissonance of the State Department under Secretary of State Mike Pompeo in criticizing Beijing's treatment of Hong Kong is also glaring, said Shackelford, adding "the hypocrisy does matter."
At the same time, countries that depend on the United States for security, such as Ukraine, have been dismayed by what they are seeing.
"They just see America internally in turmoil," said Pifer, a professor at Stanford University. "If you are in Ukraine and you see the United States as your major strategic partner and your counterbalance to Russia, this cannot be a particularly comfortable time."
In her contacts with people as far away as Hong Kong, Nigeria, Indonesia and Eastern Europe, Bayles said she gets the sense that they think "our entire system is falling apart very rapidly."
"The key to this whole thing is it's a real test of our political freedoms and liberties, and I think for smart people around the world, that test matters a lot to them," she said. "They are looking at it and saying, 'Is America going to hold it together? Because God help us if it doesn't.'"
On a personal note, Green-Riley, who is black, said Trump's inflammatory and racist rhetoric has been demoralizing to her and to the many other civil servants of color working on behalf of the U.S. government.
"There are so many people who are working on behalf of this country even though they feel a deep sense of hurt and sadness with what's happening," she said.
On Tuesday, nearly 60 black former U.S. ambassadors, including former ambassador to the United Nations Susan Rice and former Sen. Carol Moseley Braun, D-Ill., released a letter condemning systemic racism and police brutality in the country.
"We believe it is time for all people of conscience to voice their opposition to legally sanctioned violence; it is tarnishing America's image at home and abroad," reads the letter signed by members of the Association of Black American Ambassadors, which was published on the news aggregation website AllAfrica.
"We believe strongly that equal rights and complete pursuit of justice is but the first step needed to rebuild our own citizens' confidence in our democratic system and values. But, it is also needed to help restore our country's global human rights authority."
Ford said he expects that the exposure of long-simmering racial inequality and injustices during the Trump years will probably result in a declining interest to travel to the United States on the part of foreign university students, businesspeople and tourists.
"On some levels, it is just going to introduce an element of preference to deal elsewhere, to go elsewhere, especially if it involves physically coming to the United States," he said.
U.S. demonstrations inspired overseas versions And yet, the anti-racism protests that began two weeks ago in the United States have inspired a massive outpouring of similar feeling across Western Europe and other parts of the world, including in Australia, Mexico, Tunisia and South Korea.
In the United Kingdom on Sunday, a large crowd of protesters in Bristol pulled down the statue of the 18th century slave trader Edward Colston and then joyfully jumped on its head, while demonstrators in Oxford demanded that a statue of Cecil Rhodes, a 19th century imperialist, be removed.
A statue of Belgium's King Leopold II, whose brutal colonization of Congo in the late 19th century led to the deaths of millions, was removed in Antwerp this week after being set on fire by demonstrators. And the French government announced Monday that police would no longer be allowed to use chokeholds when making arrests.
"We're not seeing the type of leadership that America needs at this moment, but what we are seeing is a groundswell of civic engagement," Green-Riley said. "That is also something that the world is observing. At a time when I have been feeling very sad, that gives me hope."